Workout, like cycling, is very much essential for significant health benefits. But sometimes we can't make out time to get dressed up for going out for cycling. And so, we select indoor cycling options.
While doing indoor cycling, we need a good fitness tracker also to keep track of our health improvements. But the fact then arises which one will be the best fitness tracker for indoor cycling?
However, in this writing, we have enlisted some great fitness trackers along with the characteristic features and beneficial aspects. You can easily track your indoor cycling performances by using any of the trackers below.
So, read it now and choose your one!
Here's the list of 7 best fitness tracker for indoor cycling:
Best Fitness Tracker for Indoor Cycling
Now feel relax as you have already got the list and grab the reviews very deeply. Let's start!
1. Fitbit Charge 3– Slim-Designed Fitness Tracker

The smartwatch comes with a slim, stylish design for which people tend to love it. It has more than 15 exercise modes like run, bike, yoga swim, etc. So, you can select any style and carry on with your cycling. It can track the burning of calories and also heart rate all day long.
It's classy and durable design provides limited waterproof usability. It can automatically track your sleep type also whether you are sleeping a deep sleep or having rem sleep. Charge 3 lets you connect with other android apps and see notifications and messages along with other regular essentials.
With this fitness tracker, you can set a goal and get a reminder of every activity steps for having your dream fitness.
Pros:
Can have the expert's guidance using the Fitbit app
Women health tracking system
Touchscreen display
The battery lasts up to 7 days
Can track the oxygen level of blood
Cons:
Only three indicators can be on at a time
Takes time in syncing sometimes

It can give such accurate measures of your steps, calory burning, heart rate, and even sleep rates also. You can have all the options in one device. It is your pedometer; whether you are in a treadmill or a bike trainer, it will count your steps and keeps giving you alerts of every step all day long.
The device tracks your sleep type and gives you the alert for having a perfect sleep and have your destination health. Again it's highlighted feature is it has a camera for remote shooting. So, shoot your indoor workouts and improve for better benefits. You can have calls and notifications from almost all social media. Thus, the device is a jackpot with all in one!
It has 14 multi-exercise modes that you can set and do indoor workouts in a relaxed way. It also lets you the option of connecting to the VeryFitPro app. Again it does not need any cable or dock to charge. You can charge the watch with any USB  hub or computing device, for it has USB port built-in it.
Pros:
Can track both active & inactive conditions
Sweat and water-resistant
Easy charging system
Bright & clear OLED screen with customizing clock display
Cons:
Can't connect to iPad, PC or tablet
3. Fitbit Versa 2– Alexa included Fitness Tracker

This version of Fitbit brings a fitness watch with Alexa option built-in. So, you can use this as your daily fitness tracker for indoor cycling as well as use it for knowing different info through your voice only.
Versa 2 can track your sleep type, whether it's deep sleep or rem and alerts you by giving alarms. It has heart rate monitoring options through the wrist, and it can monitor your daily fitness activities and the restless issue also. It tracks your steps, calories burning rate, busy times, floors climbing, etc. all day long.
The best part of this tracker is its display remains on all the time. You don't need to touch or press any button to show the measurements. With the popular sports app of USA-Pandora, you can download more than 300 sons, and with the Deezer app, you can store the songs. Now indoor cycling will be more fun and a full-on recreational way.
Its battery lasts up to 6 days with continuous tracking.
Pros:
All kind of smart home devices  are controllable with it
Very comfortable to wear both on day & night
The third-party app UBER is also manageable through it.
Always screen on option makes your indoor cycling more beneficial
Cons;
No GPS distance tracker.
Need Amazon's Alexa app to use Alexa

Willful brings a perfect fitness tracker with 14 sport modes in it. It can track your heart rate so accurately with its advanced HR sensor formula. It tracks your every pace like a pedometer.
It can track sleep time and sleep type so correctly, and with the silent alarm, it keeps you under monitoring all day. It is IP68 waterproof, so no worries for sweating splash.and its LCD colorful screen and slim looks make it so classy and different from the other.
It can connect any social apps and shows all the notifications. No worry about missing an urgent call or text while cycling indoor. Willful brings such an excellent device for your all-around fitness guide. The watch has the option of controlling your mobile's camera remotely.
Pros:
Wrist movement tracking option
IP68 water-resistant
Quickly charging with built-in USB port
Screen brightness is adjustable
Band size is adjustable
Cons:
No GPS, so inappropriate for outside use
5. Garmin Vivo Sport– All Device Compatible Fitness Tracker

Garmin Vivo Sport brings a trendy look fitness watch for making your indoor cycling more convenient. It can monitor your heart rate through its cardio applications built in it. It can track every step, cycling, spinning, and give you an accurate reading.
It lets you connect with your smartphones, iPhones, and even windows. So, connect your indoor fitness watch to any comfortability and go on with cycling or spinning or any other workouts. You can also have music from your phones and enjoy your indoor cycling. The more extended and durable battery provides more swiftness in monitoring all day long.
You can check your social media notifications & emails and send or receive text & calls through it. You can even connect to Garmin connect and share your activities with other users and get motivation for further.
Pros:
Appropriate for both indoor and outdoor
Color Garmin Chroma screen shows reading on direct sunlight
The battery runs up to 7 days with GPS tracker on
It can connect windows, android, or iPhone.
Cons:
Band is irreplaceable
It can't upload HR reading directly to the phone

Apple watch comes with the thought three rings, one goal that indicates standing, moving, and doing exercise and has the target of a fit body. Apple watch of series 3 lets you have the tracking of your indoor cycling along with other workouts. You can also get alerts like the cadence and signals of the pace you are crossing.
Apple series 3 can track your heart rate with the second generation heart tracking system. It can follow every beat of your regular living and alert you when you are having stress or having a lower heartbeat. The emergency SOS option provides you the opportunity of giving an urgent call to the previous connected location.
It's not a tracker but also a cellphone. You can have text and calls, but of course, when you are out of water. Again you can also ask Apple's renowned Siri to make a call or send messages. So, enjoy your indoor cycling along with attending calls or messages. Also, You can connect to Apple's streaming music and Podcast to bring some taste in your indoor workout.
Pros:
Apple streaming music allows an entertaining workout
Great fitness tracker in the form of a smartwatch
Can pair with convenient gym elements
Band is interchangeable
Can be set at your desired look
Cons:
Not waterproof
Doesn't track sleep
7. Fitbit Blaze– Accurate Pulse Reading Fitness Watch

Fitbit introduces a fitness tracker that tracks multi-sport activities like running, cycling, biking, spinning, etc. It can track pulse rate so correctly and give a proper reading. It is available in so many stylish and fashionable colors.
You can connect the Fitbit watch with your smartphone and see social media notifications, check emails while cycling, and get text or calls. The device has a smartly tracking option to track each step and record it. You can have real-time status updates while cycling.
Blaze gives you the option of route tracking. So, you can use the device for outdoor workouts also. A silent alarm option helps to get you reminded without disturbing others. Again, you can connect the Fitbit dashboard and set a goal to have your dream health. Its multi-faced display lets you have any display face you want.
Pros:
Track every exercise & gives alerts
Comfortable to wear
Neither too heavy nr too light
Matches every outfit & suitable for every occasion
Cons:
Not waterproof
Need the phone nearby for getting notifications
Things to Consider When Buying a Fitness Tracker for Indoor Cycling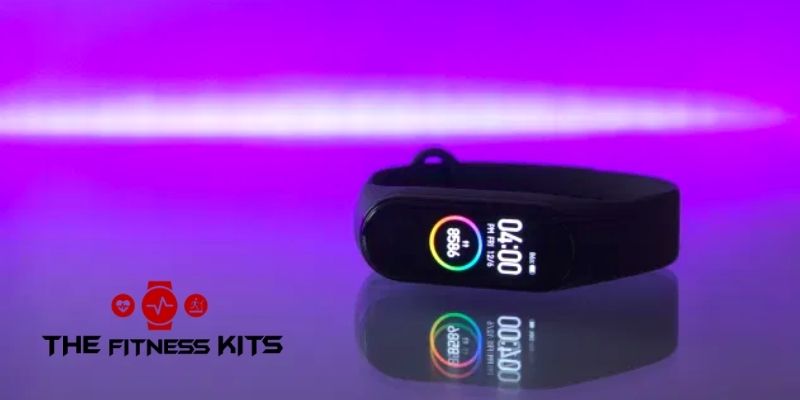 While choosing a fitness tracker for indoor cycling, there are several cases you need to consider. There are several fitness devices, but all of them are not suitable for indoor cycling. So let's know the must-have features you should look for when choosing a fitness watch for indoor cycling.
Step Counting feature
As the device that you are going to use is for indoor cycling or pedaling, so chose such tracker that can track your step. Choose a  tracker that can count your steps, not the distance you move. Some fitness tracker has many options available, but when you are doing cycling at your bike trainer, the device can't track. So, choose the one with step counting options.
For example, most versions of the Fitbit watch can't track steps. That is why when you sweat while cycling indoor, it can't track automatically. You need to add the option of indoor workouts manually.
Look for Device Compatibility
Well, it's at home where you are cycling so, you may need some recreational environment to keep up your mode on cycling. In that case, you can search for a fitness watch coherent with your phones.
For example, Apple watch is only convenient with the iPhone, and if you have the iPhone, then you should go for Apple Watch. So, checking the device compatibility is a must considering fact. While indoor workouts, you must need a guide that you can find from different apps of the devices to get inspiration every time.
Other Tracking Options
When you are looking for the best fitness tracker for indoor cycling, you can check for other health tracking options also. Such as heart rate monitor, calory burning rates, sleep tracking feature, etc. are the primary ones. As you are cycling indoors, so you need full coverage of your health monitoring to get your healthy life.
GPS Tracker Can be an Optional
When buying a tracker for indoor cycling, you can keep the GPS tracker option as optional. But remember some fitness watch does not provide GPS route so that you may need your phone for GPS tracking. If you think you are not going outside for cycling or riding, then you can keep this feature optional or no need for having this feature.
Design
Nowadays, many devices from different brands have been introducing within a week. So, there is a lot of design available according to the user's demand. You can look for any style as you are comfortable. But make sure the model should not make your display too tough to show readings. Choose a  mainly comfortable one and convenient for any atmosphere.
Budget Coverage
A budget-friendly fitness tracker is a very crucial option you need to choose from multiple options around yours. But it's not a hard task also. If you have a limited budget, then check for the minimum primary features within your budget. You need a fitness tracker to track your activities and help you to get your desired healthy life.
Final Words for You
Our writing includes all the best fitness tracker for indoor cycling that you can trust blindly for your indoor workouts. We have brought out the best ones from a variety of available brands, including the buying guidelines also. So, read our writing and take help in choosing your fitness tracker.
Enjoy your indoor cycling and reach your destination-a healthy lifestyle!