Choosing the best heart rate monitor can be difficult. Because there are many products available in the market, as you don't know which one is perfectly suitable for you, meet up all of your needs and demands.
Garmin Edge 520 fulfills the demands of beginners and professional riders. While reading this article, you will know about the best heart rate monitor for Garmin Edge 520.
Please go through our article. It may cost some time, but it will assist you in selecting the best HRM for your Garmin edge 520.
Best Heart Rate Monitor For Garmin Edge 520
The Garmin Edge 520 has some unique and trendy features such as Mapping, Bluetooth connectivity, FTP tracking, and many more.
So, let's not waste time and give a deep dive into the article.

Are you looking for a reliable heart rate monitor? Then the Garmin Vivoactive HR has very imposing features and specifications.
Itis one of the most favorite fitness tracker devices among fitness lovers as it includes some popular new features. It supports excellent GPS accuracy. It is waterproof up to 50 meters. It gives information about your daily burning calories, the distance you traveled, steps count, and your speed. It provides information about your regular heart rate, and its' sleep quality mood is entirely accurate.
This device has a high-quality touch display, and you can get all the notifications of your incoming calls or messages. It provides Bluetooth, Navigation, and USB connectivity.
Another exciting feature of this Garmin Vivoactive HR is you can customize it with around 1300 apps and widgets. It has eight days of battery life.
Pros:
Garmin Vivoactive HR gives accurate heart rate monitoring.
This device has above-average battery life.
It provides excellent GPS accuracy.
It is waterproof.
Cons:
It is a little bit uncomfortable for day-long use.
And it is only available in black color.

Garmin Soft Strap Premium Heart Rate Monitor has to wear around the chest. It has made of a soft, anti-chafe fabric to enhance your comfort level.
This device has a soft adjustable elastic strap(strap length is 21"-29.5"), which makes you feel more comfortable during workouts. It is water resistance up to 30 meters. It can transfer heart rate to your device wirelessly for immediate feedback. But it is unable to forward heart rate reading during swimming, and its' operating temperature is about 23°F to 122°F.
The weight of this product is around 45gm. It has a battery life around about 4.5 years, and it depends on your regular use. It supports ANT+ system compatibility.
The soft adjustable strap is easily washable. You can remove the monitor and can easily clean the strap if needed.
Pros:
This device provides a light, comfortable, and adjustable strap.
The strap is easily washable.
It has a replaceable heart rate monitor.
It can be capable of work properly around 30 meters underwater.
Cons:
Sometimes parts of the strap may result in chafing.
During swimming, it is unable to transfer data.
3. Garmin Edge 520 Plus– Best Heart Rate Monitor For Pro Racers

If you are a mountain biker or pro racers and searching for a high-performance heart rate monitor for a day-long riding or training, then Garmin Edge 520 Plus is a perfect match for you.
It can be the first choice for pro racers as it has some cool and trendy features. This device supports ANT+ and Bluetooth connectivity and gives notification for your incoming calls or texts. Without navigation, its' battery life is around 15 hours, and with navigation, it is up to about nine hours. Instead of a touch-screen, it provides seven buttons to operate the device.
It supports colored display. You can easily give messages to your co-riders without having phones by the rider to rider messaging. So, no need to freaking out; if you get lost your directions or ways or need some help, you can easily give a text to your co-riders who pair with Group Track, so it is easy for them to track your location.
It has some additional features as the Edge 520 supports proper color mapping, accurately detect the speed, time, space, heart rate, and distance traveled.
Pros:
It provides excellent navigation.
It has improved battery life and automatic rerouting system.
You can easily customize your device.
It supports advanced performance monitoring.
Cons:
It does not support touch screen.
It does not have Wi-Fi connectivity.

Are you looking for a waterproof HRM device? Garmin HRM-Swim is the best choice for you, as it has specially customized for the swimmers.
The strap of this device is non-slippery, which is suitable for the swimming environment. It has customized for use in the swimming pool, and it has pool chemical resistance. You can comfortably dive into the water and swim like a fish as it is not slippery. It is still in the right place during work out.
The weight of this device is about 72 gm. You can adjust the size by bi-folding. It can be compatible with the Garmin Forerunner 735XT, 920XT, Fenix 3, and Fenix Chronos.
It tracks and transmits your regular heart rate data to your companionable devices underwater. It can keep the heart rate data and information up to 20 hours while swimming then, transfers it to a compatible device. It supports heart rate variability, and it has some additional heart rate features. Battery life lasts for 18 months.
Pros:
It provides a durable, non-slippery strap, and it can be easily replaceable.
Easy to use.
It is less light than any other heart rate monitor from Garmin.
Lots of parameters can record like stroke and SWORF.
Cons:
To use this device, you must have a Garmin compatible watch.
It is water-resistant but not waterproof.
5. Garmin HRM-Run– Best Heart Rate Tracker For Runners

As Garmin HRM-Run has six advanced running metrics, it can be the first choice of the pro runners.
It is a second-generation chest strap with six most updated running metrics and specially designed for the runners. It supports ANT+ and advanced heart rate features. But it is not suitable for swimming environment, as it does not provide pool chemical resistance. Battery life lasts up to 1 year. Its weight is about 3.2 ounces. It has two years warranty.
The strap of this tracker is soft, comfy, and flexible. The monitor is light. The machine is not washable.
It is suitable for running and biking. It is unsuitable for swimming as it cannot measure heart rate underwater. But you can comfortably use it during rain because the heart rate sensor is splash-proof.
Pros:
It is comfortable and more natural to use.
It gives accurate data and information.
The strap is soft and flexible.
It supports ANT+ connectivity.
Cons:
It does not support Bluetooth connectivity.
Battery life is short.
6. Garmin Venu– Best GPS Sports Smartwatch

Garmin Venu is one of the best GPS sports smartwatches because of its' vibrant AMOLED display.
This device supports a a1.2-inch AMOLED display and updated software. It is water and dust resistance. It promotes fitness and health tracking. Not only heart rate, but it can also track your respiration rate. It can show the loss amount and calories burned during workouts.
The Venu has some additional features as it provides animated workouts. It supports smartphone notifications and controls smartphone music. If you use it as smartwatch mode, battery life lasts up to five-day, and it survives around six hours in GPS and music mode.
It provides a spectacular amount of health data and information, lasts up to five days between charges. It contains more than 25 loaded sports apps.
The Venu has an internal storage of about 3.6GB. It can track your stress level, hydration, menstrual cycle, mindful breathing, respiration, and heart rate.
Pros:
It provides a beautiful, active display.
It supports animated workouts and updated top-end fitness features.
It provides updated health tracking and fitness features.
You can play offline music.
Cons:
No color preference only available in black color.
Due to the AMOLED display, it has a bit shorter battery life.

Are you a workouts lover or fitness freak? Then, the Garmin Vivofit 2 Fitness Band makes your daily workouts a bit more interesting.
It monitors your heart rate, sleep, daily activities, shows your progress, steps, and calories burned. You can track your resting period by setting sleep mode.
Its water-resistant ability and supports a long battery life around one year. It provides an LCD, inactivity indicator, supports Bluetooth connectivity, and smart technology. Product weight is about 0.89 ounces.
It supports ANT+ and Bluetooth connectivity. This device can easily sync with the Garmin app and directly sync with iPhone. But it does not support synchronization with other software. It is easy and comfortable to wear and provides accurate tracking. It does not give vibration alert, and one of the attractive features is the Autogoal. It learns your daily routines and starts modifying your fitness goal depends on your activities and behaviors. Its reporting feature is trouble-free to understand, and this reporting section makes it easy to review your history.
Pros:
It gives accurate step counts.
User-Friendly.
It has long battery life.
The band is water-resistant, so no need to be freaking out during raining or swimming.
It is less expensive and affordable.
Cons:
It does not support GPS and no alarm function.
How To Pick The Top Heart Rate Monitor For Garmin Edge 520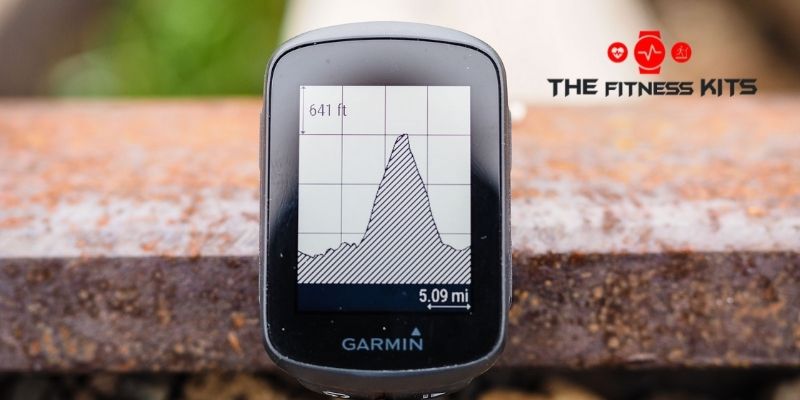 When you decide to purchase a heart rate monitor, you should consider some factors.
Strap
Before you purchase a new HRM, you should keep in mind that the strap should be
comfortable and soft.
Monitor size
It is also an essential factor. Larger monitors can create discomfort during the
workout.
Battery
You should go for the long battery life HRM. And before buying, try to check the
description and specification for battery life.
Budget
It is an essential factor. Before purchasing, you should do market research and budget
your cost. By doing this, you can buy a product according to your budget and desire.
Display
Display size also essential. A large display screen with a good contrast makes you more
comfortable during evening workouts.
Final Verdict
So, tracking and monitoring your fitness level and achieving your workout goals will be more comfortable and exciting with a Garmin product. This article on Best Heart Rate Monitor for Garmin Edge 520 will assist you in gaining a clear knowledge of which device to select to meet up your desire and demand.