Have you ever wondered how you would train yourself in an area without any GPS connections? It's hard to imagine. But its entirely possible.
In this situation, all you need is a treadmill and a foot pod paired with a smart device. The foot pod is a must here as it helps us to understand the running metrics better.
Now, indoor training with foot pods comes with specific requirements. Let us help you explore the seven best foot pods for treadmills.
Also, we may assist you in understanding some basic foot pod terms, along with a few FAQs.
By the way, get the list of 7 best foot pods for treadmils:
Best Foot Pods for Treadmills
There are a couple of foot pods that may work excellently while running on treadmills. Let's countdown the seven best foot pods we recommend for treadmills.
1. Wahoo Cadence-The one that comes with a 100% wireless trait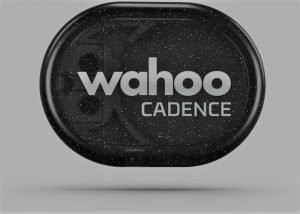 This foot pod named Wahoo is very light in weight. Its real weight is 4.54 grams. Also, it is effortless to install it in your shoes.
This foot pod is undoubtedly a versatile one. You can typically pair it with 50+ devices. It is possible because this pod has a Bluetooth sensor along with aANT+ sensor.
Although it is mainly used for indoor cycling, you can use it on a treadmill as well. There would be no change in the measurements without any doubt.
Pros:
This pod is extremely thin and lightweight. You may feel nothing on your feet while wearing it.
It has a global fit. That's why you can fit it in any shoe.
It uses wireless Bluetooth features with ANT+ facilities. This facility makes it hard to complete with it.
You can change the battery after it expires. Generally, it lasts for a year.
Also, we can use STARVA on this device.
Cons:
This pod can't display any current metrics on the STARVA.
2. Polar Stride– The best one to enhance your running techniques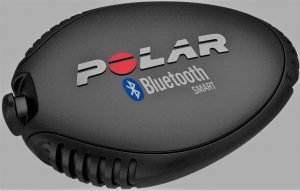 The Polar stride sensor foot pod is a product of the Polar electro, inc. It covers most of the first running pod features.
As usual, it measures your running speed and the approximate distance you run. Polar promises to provide 600+ hours of a lifetime for this device.
It is much more substantial than many other foot pods. Its weight is  27.2 grams. The whole package also includes a holder and a manual along with the run pod.
It shows how your running performances change through the workout session. With the help of this aspect, you can enhance the output of your performances.
Pros:
You can change the battery of the Polar stride after the first one it finishes.
This pod comes with water reluctant and shockproof feature.
It is compatible with many other Bluetooth smart devices.
Polar allows its users to evaluate their training on their website named polarpersonaltrainer.com.
The pod sits flawlessly on the shoelaces.
Cons:
The only problem is that it doesn't sync with the Polar monitors.
3. Coros Wearables-The first one to introduce stride height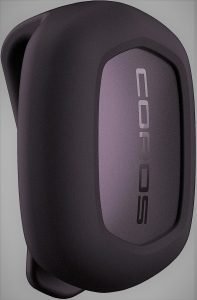 The foot pod manufactured by Coros Wearables is one of the best devices in terms of evaluating running metrics. It has a unique feature of measuring the heart rate. It also measures running power and runners' efficiency.
Moreover, this pod estimates the cadence and the balance between the left foot and the right foot. We can also record the time of ground contact.
You might be amazed by its features relating to stride. It shows you the stride ratio and length along with the stride height.
This silver colored pod weighs only 19 grams. On the other hand, it can bear 1-atmospheric pressure under the water level. It runs by a battery that might last for a year-long.
Pros:
It comes with a new feature relating to stride height.
It has a waterproof characteristic. It promises to give accurate metrics, even beneath the 32 feet water surface.
It can connect with STRAVA and Training Peaks.
Users may improve their performances using the ground time feature.
You can use the Coros app to sync the metrics with your phone.
Cons:
You can only pair Coro's devices with this foot pod.
4. Milestone Pod– The best one to sync with Zwift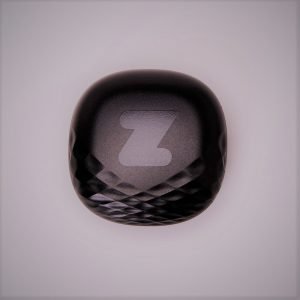 The maker of Zwift also introduces us to the Milestone Pod. You must try this pod if you are a Zwift lover. They specifically made it for video gaming. But you can also use it as indoor training equipment.
It helps you to measure some basic metrics, such as running pace and distance. By using this black pod, we can count steps and calories as well. All you need is to attach it to the shoe using the clip on the pod.
The plastic made pod weighs only 9.07 grams. Additionally, features like cadence, stride, and earth contact time are also there. But its unique traits are foot strike and Rate of impact.
Pros:
We don't need to carry any additional charging cables for this pod.
It comes with a Bluetooth service that enables it to connect to other devices.
It has a unique feature that shows the amount of shoe mileage.
It also has an odometer for the footwear.
It shows up with a clip that makes it easy to wear.
Cons:
It is not compatible with ANT+ technology.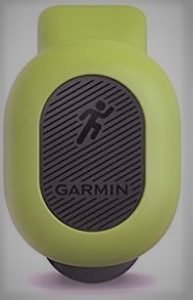 The Garmin RD comes with six different dynamics relating to treadmill running. It calculates your total steps and finds out your cadence.
Not only does it keep an account of vertical ratio and vertical oscillations, but it also records the earth's contact time.
It comes in an attractive green color. Also, the manufacturers made the battery from lithium metal. And it has a proportion of 1.5x 0.8x 0.9 inches.
Inside this pod, some sensors make it turn on or off automatically. You may think this pod might be massive then. But you are wrong. It doesn't weigh more than 0.5 ounces.
Pros:
It has some biomechanical measurements that help you to understand your running better.
It allows you to replace the old battery once it expires.
It has a sensor that enables it to turn on and off automatically.
It is quite lightweight.
It shows a percentage calculation of your left-right leg balance.
Cons:
It is not compatible with the Zwift set up.
6. STRYD– The best one to compute the running power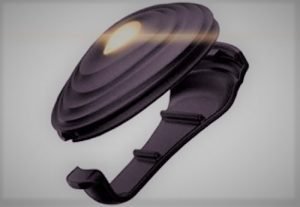 STRYD is considered the best foot pod available for triathlon runners. Although it is best to use the pod outdoors, its performances indoors are quite amazing.
The STRYD is thin but durable. It weighs about 10 grams. However, It can measure almost every running dynamics accurately.
This black color pod has a wind port along with two sensors—one for computing temperature and the other for calculating humidity. Also, the fundamental features, such as cadence, pace, stride length, are available here.
It is compatible with most of the watches or phones. It has a set plan built-in for long-distance runners like triathletes. You can run for thousands of miles with just a single charge.
Pros:
This pod comes with two clips that are so easy to use.
They give the most precise analysis of your running metrics.
It comes with a find resistance feature.
You can sync this device with any Garmin products.
You don't need to calibrate it before using it.
Cons:
This device is not compatible with STARVA.
7. Garmin Foot Pod– The one best for speed and distance measurement
Whether you are a Garmin fan or not, you would like the Garmin foot pod. It is a gem for treadmill users. This pod is so tiny that it could fit in the midsole pocket of the shoe with ease. Also, you could set it in your shoelace.
It can pair with any device having a wireless sensor. But it can't respond to Bluetooth enabled devices. It uses the cadence and stride measurements to monitor your indoor workout. The use of MEMS inertial-detectors makes it possible to measure all the metrics almost 98% accurately.
The Garmin uses lithium metal to build the battery for this black run pod. Also, you can change the battery after one year or more. The pod is slightly overweight than the others. It is 45.4 grams in terms of weight.
Pros:
It is one of the top 100 electronics products listed by amazon users.
So far, it is considered the best pod for treadmill runs.
It is also compatible with the Zwift gaming setup.
Measures sped and distance with 98% accuracy.
Cons:
The only problem with this device is that it can not store your data.
Few Important Things To Keep In Mind
Are you a beginner in fitness training? Don't get confused after listening to the scientific names. Read about the following terms and get your thoughts clear.
Cadence
In the world of fitness, cadence means the average step rate. Cadence refers to the number of steps you take per minute. Moreover, it counts your total steps during the workout.
Stride Length
The stride length indicates the gap between the two footsteps while running or exercising.
Ground or Earth contact time
This term measures the time your feet spend after touching the treadmill while running. Generally, we use milliseconds to measure it.
Vertical Oscillation
This phrase means how much do you bounce while running. We measure vertical oscillation in centimeters.
Vertical Ratio
Vertical ratio is the proportion between the vertical oscillation and stride length. It shows our workout performances in percentages. If the percentage is low, that means the performances are high.
Frequently Asked Questions
Ques: What are foot pods?
Ans: Foot pods are tiny wearable devices. We wear these in our shoes to keep track of our exercise sessions. Generally, cadence, stride length, running speed, and distance covered by running are measured in this pod.
Ques: Can Foot pods check heart rates?
Ans: Yes, they can. Some of the foot pods can measure the user's heart rate.
Ques: Do foot pods count steps?
Ans:  No, they don't directly count total footsteps. Instead, they use cadence, that is the number of steps you take in a minute.
Verdict
Owning a foot pod makes your training process much more comfortable. There is no device more accurate than a calibrated foot pod. Also, it helps you to interpret your performance level by yourself.
So feel free to choose your favorite one from these best foot pods for treadmills.
Foot pods use accelerometers to calibrate foot movements. They are straightforward to wear on foot. You need to snap the foot pod onto the laces of your running shoes. Make sure the narrow part points towards the end of your shoe.